INTRODUCTION
Laparoscopic insertions of intra-abdominal drains have multiple indications. Closed suction drains are used routinely to drain potential collections after surgery or after bowel anastomosis. The primary operation alone for peritonitis may be inadequate for severe forms of peritonitis and drains are frequently required in primary, secondary and tertiary peritonitis.1 In high-risk cases of duodenal ulcer perforation and perforated diverticular disease where definitive surgery is not possible, laparoscopic insertion of an intra-abdominal drain alone may be life-saving.2,3 CT/US-guided drainage of intra-abdominal abscesses is becoming a standard but when expertise is not available a drain can safely be introduced under vision to drain the abscess with laparoscopic guidance.4 Laparoscopic insertion of drains has also been used in the treatment of postoperative complications after open abdominal procedures.5,6 The access to the abdominal cavity and intra-abdominal spaces is better achieved with laparoscopy. An intra-abdominal drain is sometimes inserted for the removal of any residual fluid and collection in cases of peritonitis and in suspected leaks. Inserting an intra-abdominal drain is sometimes cumbersome through the port sites. There are several techniques for inserting an intra-abdominal drain in laparoscopy. Usually the entire drain tube is threaded into the intra-abdominal cavity through the port and the distal end of the tube positioned at the desired location. In another method the proximal end of the tube is threaded through a first port and out through a second access port to draw the distal end of the tube into the intra-abdominal cavity. But these techniques have the drawbacks of gas leak and only a small size drain can be threaded through a 3-5 mm port unless a 10 mm port site is used (which is not recommended).7,8,9 With the technique described below, any size of drain can be inserted through a 3-5 mm port site without any of the drawbacks of other techniques mentioned.
METHODS
Between June 1998 and July 2007, a total of 5,900 laparoscopic procedures were performed in our hospital. Retrospective data were retrieved from the surgery logbook. The main indications for intra-abdominal drains were peritonitis, bowel and biliary anastomosis, biliary surgery, gastric resection, bowel injury, pelvic surgery, various types of laparoscopic hernia surgeries and concomitant laparoscopic procedures. Laparoscopic-guided drainage and drain insertion were also performed in liver abscesses, intra-peritoneal abscesses, and retroperitoneal abscesses, postoperative intra-peritoneal collection following laparotomy, laparoscopy and abdominal trauma. The intra-peritoneal drains were frequently used in the learning curve of laparoscopy. Several techniques of drain insertion were tried but with increasing experience we found a simpler technique for drain insertion as follows:
Intra-operative technique: A 5 mm port cannula and the tip of grasper (inserted through another port) were aligned together. The grasper was threaded inside the lumen of the 5 mm cannula as shown (Figure 1). The grasper was snugly accommodated further inside the port. By railroading, the 5 mm cannula was gradually withdrawn while still holding the grasper blades inside the cannula. The closed grasper jaws were brought out through the 5 mm port site and the 5 mm cannula removed (Figure 2). The distal end of the drain (Evacuator Barovac, closed wound drainage system, outer diameter varying from medium 3.2 mm to extra large
6.4 mm) was threaded over one of the open jaws of the grasper. To prevent gas leak, the proximal trocar end of the drain was not cut (Figure 3). The drain usually snugly fits in the port site without any gas leak. While holding the drain in the closed grasper, the drain was gently pulled into the intra-abdominal cavity by withdrawing the grasper under vision. The drain was positioned in the desired location (Figure 4).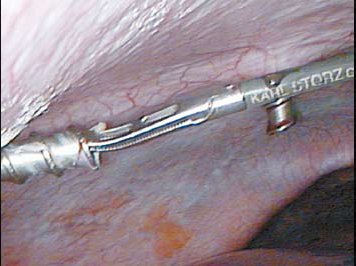 Figure 1: Threading grasper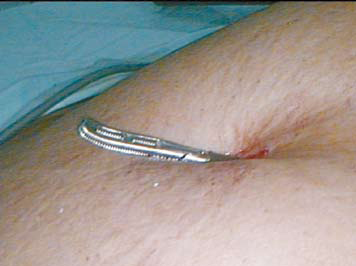 Figure 2: Railroading grasper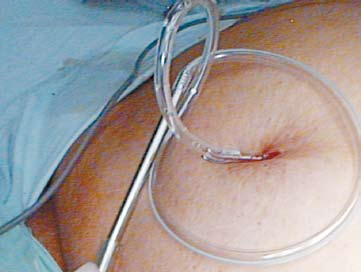 Figure 3: Proximal uncut trocar end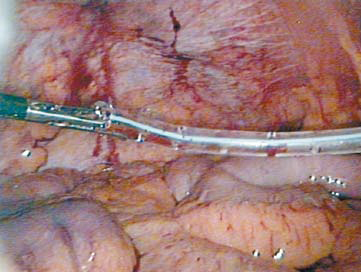 Figure 4: Drain pulled intra-abdominally
RESULTS
Intra-abdominal drains were used in 17% (996 cases) of the laparoscopic surgery (The 95% confidence interval extends from 0.089 to 0.186). Drain size varied from 3.2 to 5 mm and the mean duration of drain was two days (range one to days) depending on indications. Drains were used routinely in all cases of peritonitis and selectively in other surgeries. For the last few years we have used drains in all cases of laparoscopic repair of ventral hernia to reduce the incidence of seroma formation. Right lower abdomen was the most preferred site for drain insertion using a 5 mm port cannula. We succeeded in inserting an intraabdominal drain by this technique in all cases without any difficulty. There were no drain-related complications and no case of port site hernia at drain site in follow up varying from six months to nine years.
Table 1: Indications for Intraabdominal Drain in Laparoscopic surgery in 996 patients in our unit
| | |
| --- | --- |
| Indications | Number of patients |
| Appendicitis with peritonitis | 435 |
| Perforated peptic ulcer | 95 |
| Perforated diverticular disease | 8 |
| Biliary anastomosis (choledochoduodenostomy) | 17 |
| Bowel anastomosis (Hartmann reversal etc.) | 22 |
| Biliary surgery (postcholecystectomy) | 56 |
| Gastric resections and anastomosis | 5 |
| Bowel injury | 5 |
| Pelvic surgery | 19 |
| Ventral hernia repair | 237 |
| Inguinal hernia repair | 12 |
| Concomitant & complicated laparoscopic surgery | 41 |
| Liver abscess | 10 |
| Intraperitoneal abscess | 11 |
| Retroperitoneal abscess | 2 |
| Postoperative intraabdominal collection | 9 |
| Abdominal trauma | 12 |
DISCUSSION
Depending on the surgeon's choice and the surgical procedure, an intra-abdominal drain may be required to drain the surgical site. They have been used for prophylactic, diagnostic and therapeutic purposes.10-14 Drains may be advisable in routine surgery to drain postoperative collection, bleeding, in peritonitis and bowel anastomosis. Laparoscopy is very effective in thorough suction and irrigation of the peritoneal cavity and accurate placement of the drain under vision. Usually the smallest size port entry is used to avoid future complications of port site hernia and obstruction.15 Only one grasper is required and a 5 mm port site is usually adequate even for larger drains. All of the techniques described for the insertion of intra-abdominal drains have drawbacks. In the common technique of direct introduction of drain through the port, the pressurization gas escapes from the abdominal cavity through the drain tube itself and through the port while the drain tube is being threaded. Secondly, only a small sized drain tube can be threaded through a 3 or 5 mm port. In another technique of threading through a first port and out through a second access port to draw the distal end of the tube intra-peritoneally, the jaws of the grasper are expanded to a width with the drain tube there between, such that the surgical instrument cannot be withdrawn through the operating port. This results in a struggle to pull the drain out and gas leak, unless a very small caliber drain is used. These techniques make the introduction of the drain cumbersome. Our technique has rectified these drawbacks.
CONCLUSION
We believe this is a simple technique for introducing an intra-abdominal drain in laparoscopic surgery.
Acknowledgments
The author report no conflict of interest and no funding has been received in this work.